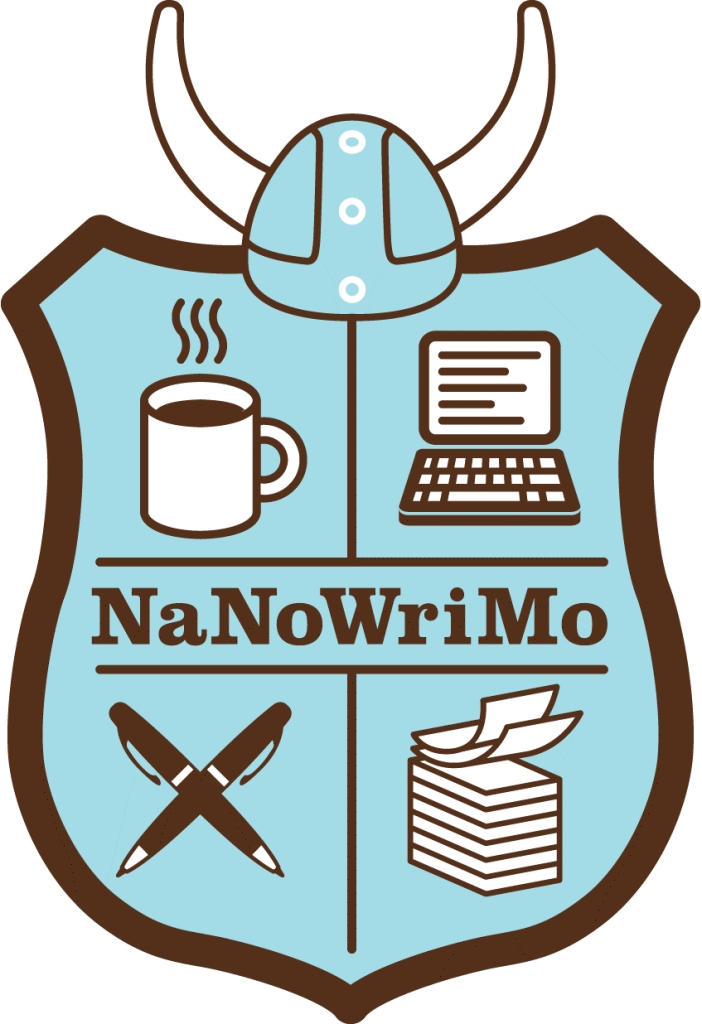 I am taking part in the National Novel Writing Month (NaNoWriMo) in the month of November 2015. The goal is to write 50,000 words during the month, finishing the first draft of a novel. I have chosen to write the second book of the Harmonic Magic series, entitled Harmonics. Because the novel is much longer than 50,000 words, my word count  goal will be bigger than the typical NaNoWriMo goal. I started the month with 29,477 words already written. I expect the first draft to be approximately 150,000 words. You can do that math.
I will log my progress on this page, along with some of the issues I face in working toward my goal and any other experiences I have during the process. This is the first time I have officially participated in the program and am excited about it.
November 1, 2015, Sunday
Today is the official start of NaNoWriMo! I started later in the day than I had planned, life getting in the way of things again. I ended the day with a total word count of 34,444 words, which means that I typed 4,967 words today. Not a bad start. It took a little while to get rolling, since I have been held up with other things for the last couple of weeks and haven't been able to write for this book. Once I got into the zone, it went more smoothly.
I have received several e-mails from the NaNoWriMo community today, all of them encouraging me on my project. I haven't read through them carefully yet (I've been kind of busy writing!) but I like how everyone tries to encourage everyone else.
November 2, 2015, Monday
It was a busy day today, so I was only able to write 949 words, bringing my total to 5916 for the first two days. I'm hoping to post a more respectable total for tomorrow.
November 3, 2015, Tuesday
I'm tired from the time change (why do we still do it?), so I was afraid writing would be rough today. Thankfully, the words flowed…and some of them even made sense. I added 4647 words to my project, making the total for the fist three days 10,563 words. I hope to keep up my momentum for the rest of the month.
November 4, 2015, Wednesday
I wrote 2489 words today. That brings the total up to 13,052 so far in the first four days.
November 5, 2015, Thursday
I'm five days into the month and it is turning out to be harder than I thought it would be to keep up with writing every day. I typically do something related to my books every day, but it's not always writing. Sometimes it's marketing work, sometimes it's blogging or updating the web site. Sometimes I do several hours of research in a day. Writing thousands of words per day every day is difficult, but I'll persevere. Today, I wrote 2783 words, bringing my total up to 15,835 for the last five days. I decided to use the classic thermometer graphic to mark where I am in my goal of 100,000 words for the month of November. I have no doubt that I will far exceed that number.
The total words I have written for the first draft of Harmonics is now 45,312. I am not quite a third of the way through the scenes I have
planned out. With some scenes being longer than others and then the inevitable cutting (and sometimes adding) of text in editing, I'm guessing the book will be about 150,000 words. That would be somewhere in the neighborhood of 475-500 pages in the printed book. That will make it slightly longer than Vibrations. We'll see how it turns out.
November 6, 2015, Friday
It's the end of the work week, at least for my day job. This weekend I plan on really pouring it on with the writing. For today, I was able to squeeze out 2034 words, bringing my total to 17,869 for the first six days.
November 7, 2015, Saturday
I wrote 2742 words today, bringing the total for the first seven days up to 20,611. It wasn't the word-heavy day I had planned, but errands and other responsibilities took up most of the day. I plan on trying to make up for it tomorrow. I now have 50,088 words altogether in this first draft, including what I wrote before NaNoWriMo started. I'm approximately one third of the way through the scenes I have slated for the book, so I'm on track for my projected 150,000 words total.
November 8, 2015, Sunday
Another hectic day. Why is it when you decide to do something every day, the world conspires to keep you from it? I did my writing later than I would have liked, but I got some words down, 3108 of them, to be exact. My current total for the first eight days of NaNoWriMo is 23,719. I'm at a part in the story where I need to do some research reading, which is slowing down my actual writing quite a bit. Funny thing about research: you can do a bunch of it up front, but you'll always need to look things up for little details while you're writing the nuts and bolts of the story. Normally, I enjoy the research and like to do it, but when it takes from my writing time, it makes me a bit anxious. Still, I'm doing fairly well in keeping up with the writing each day, if I do say so myself. And I do.
November 9, 2015, Monday
I wrote another 2490 words today, bringing the total for the month to 26,209 so far.
November 10, 2015, Tuesday
What a truly horrible day. I worked all day at my normal job, which left me little time to write in any case, but then the afternoon and evening was punctuated by emergencies, one of which found me in an animal hospital being told that my pet had died.  I bashed my way through writing a few words before it actually struck midnight, but my heart just wasn't in it. I ended the day with 26,745 total words, only having written 536 words during the tenth day of the NaNoWriMo month.
November 11, 2015, Wednesday
Happy Veterans Day. I was able to write a bit more today, though not really enough to make up for my poor showing yesterday. I ended up writing 3466 words today, bringing my total up to 30,211. That's an average of about 2746 per day over the 11 days so far. Things were flowing well today but I ran out of time. I look forward to finishing the part of the story I'm writing right now.
November 12, 2015, Thursday
These weekday nights are very difficult to eke out a large chunk of time for writing, but I do my best. For this 12th day of the NaNoWriMo month, I wrote 2021 words, bringing my total to 32,232.
November 13, 2015, Friday
I was only able to get in 1317 words today. I'm hoping to make up for it on the weekend. My total for this month is at 33,549.
November 14, 2015, Saturday
Life seems to be getting in the way of writing lately. It's unfortunate, but at least I have been able to write something. I will be having some high word-count days starting next weekend, but I am going to try to keep my average of around 2500 words per day between now and then. Today, I could only get out 433 words, bringing the total to 33,982.
November 15, 2015, Sunday
It was another busy day. I was only able to add 593 words to the total today, bringing me up to 34,575.
November 16, 2015, Monday
I wrote another 1161 words today in between the hectic mix of tasks, chores, and emergencies. My total so far is 35,736.
November 17, 2015, Tuesday
It was a light writing day today. Just a few more days and I will be able to kick it into overdrive. For today, though, I wrote a total of 1178 words, bringing my figure for the month to 36,914.
November 18, 2015, Wednesday
I logged only 1057 words today. I now have 37,971 total words written in the last eighteen days.  Only two more long work days until I can really concentrate on doing some writing. My goal is to finish this first draft of Harmonics by the end of next week, and then to start on a novella about the assassin Ix.
I have, at certain points during the writing this month, inserted comments about research or other things I'll need to add in later. The important thing is to keep continuity and to keep on writing. If I stop for research, it breaks up the flow, so instead I place notes to myself within the first draft to work on for the first revision. It works better that way. The first revision, after I've let the first draft sit for a few weeks, will have some pretty significant changes and additions. It's an incremental thing. As Michael Crichton said, "It's not writing, it's rewriting."
November 19, 2015, Thursday
I'm getting progressively more tired as the week draws to a close. I normally do something related to works in progress each day, even if only a little bit, but writing parts of a draft each day, especially when I have a word total in mind, is very difficult to squeeze into an already busy schedule. I'm enjoying it, but it's hectic, too. It is not something I would be able to do all the time. The other parts of the publishing business just take too much time. Advertising, keeping up with my web site, doing edits or coordinating cover art or audiobook production, all of these take time and so replace some of what I can spend on actually writing. It isn't really fair, but it seems an accurate  reflection of life. Today, I wrote 2179 words, allowing me to break the 40k mark. My total for this month so far is 40,150.
November 20, 2015, Friday
Today should be the last day I'll have to scratch for writing time. With some days off from work next week, I should really be able to kick it into high gear. Today, I wrote 1225 words. That makes my total 41,375. I can't wait to be able to put in some days where I can write thousands of words. Almost there.
November 21, 2015, Saturday
My word count for today is 1565 words. My total right now for the 21st of November is 42,940. Will I hit the 50,000 word mark by the end of the weekend? I'll have to really type up a storm tomorrow to do so. In the draft, I'm reaching one of the major plot points. I'm not sure if I'm doing the important event justice, but if not, I'll spice it up during revisions. It may take several. No, that's not correct; it will take several.
November 22, 2015, Sunday
I'm starting to roll now. I wrote 2619 words today. Other tasks, such as the review and approval of more chapters of the audiobook for Vibrations, seemed to take much of my time today. Tomorrow, I plan on starting the writing early, so I should get a lot of words in tomorrow. My total for the month so far is 45,559. I should hit 50,000 tomorrow.
November 23, 2015, Monday
Well, I've done it. I hit 50k words. Actually, I'm at 50,212 words to be exact, after putting out 4653 words today. I have officially "won" NaNoWriMo. So, what's left? Should I just stop and congratulate myself? Should I take a nap (always a good thing to do as celebration for anything) or sit around and be lazy? Should I put forth more effort on developing my website, doing some marketing, adopting a new hobby? Uh, no. As you may notice in my little thermometer graphic at the bottom of the page, I have set my sights much higher than the 50,000 words of NaNoWriMo. In fact, with only a week left, I figure I'm pretty far behind. That being said, there's nothing for me to do but jump back on the keyboard and start cranking out more words by the thousands. I have a novel to finish, after all, and a novella to start. It's no time to quit.
November 24, 2015, Tuesday
I wrote another 3231 words today. My total for the month is now 53,443 and the grand total for the Harmonics first draft so far is 82,920. Something occurred to me yesterday as I was trying to figure out how to write one particular scene. I had trouble with putting it in a way that seemed reasonable, in a way that made sense. I kept second-guessing myself and stopping, trying to figure things out, and then starting again only to go through the same process all over. It finally came to me that this is a first draft. It's supposed to be bad.
Anne Lamott is quoted quite often in regard to first drafts. She said, "Write shitty first drafts." The point is that first drafts don't have to make sense, they don't have to be good. They are there so that we have something with which to start the editing and revision process. So, I clenched my teeth, squared my shoulders, and started typing. And you know what, I actually had a good time of it. I really like what I wrote, even if it will all be cut during revision, or at least drastically altered. I will try to remember that at this stage of writing, it's all about putting stuff down on the screen. I can make it pretty and consistent and reasonable later. For now, I'm going to let my imagination go wild without worrying about if it makes sense or not. It's something I already knew but apparently needed a reminder about.
November 25, 2015, Wednesday
Today's writing added 1987 words to the total. For the month, I have 55,430 words so far. The pace is picking up in the story and I'm hoping to post more and more words each day, as long as other things in my life don't intrude too much.
November 26, 2015, Thursday
Thanksgiving Day. I was able to eke out 3175 words today, bringing my total for the month to 58,605 and the total for the first draft of Harmonics to 88,082…so far. I'm more than halfway done with the story now, at least in the first draft form. I keep thinking of other details I need to add, things that help explain what's going on with both the story in general and with the characters in particular. I'm not sure what my final word count will be, but I think my projected 150,000 is pretty close to the mark. Then again, I may cut thousands of words during revision, which is typical, so who really knows? The word count will be whatever it takes to tell the story. Onward! There are only four days left in the month, so I need to give it a good, strong final push.
November 27, 2015, Friday
It was another mediocre kind of writing day. I've been meaning to have a really huge day of writing for quite a while now, but it just doesn't ever seem to pan out. Maybe tomorrow? I was able to write 2652 words today, bumping my total for the month up to 61,257.  The total so far for Harmonics is 90,734. I'd like to hit 100,000 before the end of the month. All my grand plans of finishing the first draft of this novel and starting on the novella I have waiting in the wings have come to naught, but I still have had a productive month. I have three days left to get as much written as possible, but it's not like it ends there. I'll be writing even after the month is over, without the urgency and guilt for not doing as much as I'd like. I don't know if that's a good thing or a bad thing.
November 28, 2015, Saturday
Only two days left in the 2015 edition of NaNoWriMo. I would like to say that I am sorry to see it end, but the simple fact is that I'm exhausted from trying to crank out words each day in what has proven to be a very busy month otherwise. I do enjoy the writing, but finding time to do it is tough. I never realized just how hard it is to try to reach a word goal every day for a long period of time. I have more respect for the craft now. Anyway, I was able to put down another 3125 amazing and wonderful words today, most of which will probably be cut or revised to within an inch of death during edits. Still, so far as it stands right now, I have 64,382 words written this month. It's a far cry from the 100,000 words I set as a goal, but that's the way of it, isn't it? If a goal is too easy to meet, then it isn't much of a goal. I need to really push over the next two days, finishing strong.
November 29, 2015, Sunday
Today was the type of day I had been wanting to have all week. I got on a roll and was able to put out 4720 words. That makes my total for the first twenty-nine days in November 69,102. The total word count for the first draft of Harmonics is now at 98,579. There is only tomorrow left in this NaNoWriMo month. It's clear I won't be finishing the full draft tomorrow, but I will have made quite a dent in it. I'm hoping to finish it within a week or two. Without pushing to write so many words each day this month, the process would have taken much longer. I'm glad I did it, even if it was difficult.
November 30, 2015, Monday
It's the last day of November, which means it's the last day of NaNoWriMo 2015. I think I finished strong with another 3592 words added to my total. That puts me at 72,694 words written this month and, added to what I had written prior to November 1st, that gives me a grand total so far of 102,171 words in the first draft of Harmonics: Harmonic Magic Book 2.  I have quite a bit still to write, so the work is not done yet. When I finish the first draft and give it a chance to breathe a bit (put it aside to clear my mind), the work really begins with edit after edit. It's an exciting process, one that I think has been made quite a bit faster due to the National Novel Writing Month. I hope my little comments have been helpful or at least entertaining. Watch for the book sometime in the next few months. For now, I better get back to work. There is a lot more to be done.